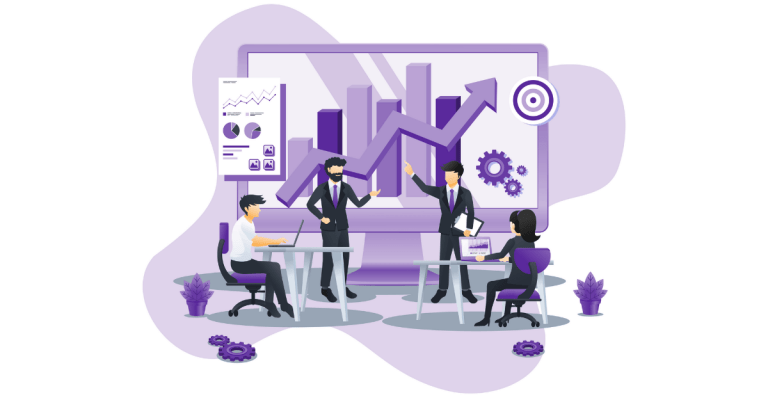 8 Working PPC Strategies to Succeed in Present Scenario
PPC practices such as segmenting and targeting audiences, choosing potential keywords, and using data metrics are effective but too old-fashioned. Now since the PPC platform has evolved, and customers have a constant behavior shift, it is important to keep up-to-date with the latest PPC campaign strategies in the market. Here are 8 working PPC trends that will take your business a long way.
Trend #1 –
Pair Broad Match with Audience Targeting Without Modified Broad
In this PPC strategy, by pairing the broad match keyword with a desirable, in-market target audience, your Ad will show up for any search that contextually matches up to your broad match keyword but only if it's coming from your selected audience. In this way, your brand will be exposed to the right people.
This strategy is help you:
To safely

scale your campaigns

To increase brand awareness

To discover new keywords

To increase your

impression share

for a given area
Trend #2: Use YouTube Studio as A Video and Display Ad Optimization Tool
YouTube Studio, a center for Creators, when connected with Google Ads account is an invaluable tool that can be used for video Ad optimization and more. This is because YouTube Studio provides data and insights you won't be able to find in standard Google Ads reporting. Here are a few things you can do with this PPC optimization tool.
Find the device types that are displaying your ads but not getting any clicks.

Identify and use external sources of YouTube to build a custom audience for Display, Video, or

Discovery

campaigns.

In the closing suggestions, find out which videos are appearing and use them to get placement ideas.

Track to exact moments in your video when viewers engaged or dropped off to perfect your video Ads.
Trend #3 – Use Microsoft Advertising Intelligence for New Keyword Ideas
Microsoft Advertising Intelligence is a keyword planner tool, using which you can discover new keywords that you might tend to miss out easily. Easily get a list of keyword recommendations with metrics such as volume, bid estimates and more. It provides a variety of views such as the following:
Traffic: Organize by device (not match type) to get a free duplicate keyword list with total searches in the past month.

Age, group and gender: Find out keywords that get searched but not by the target audience.

URL: Get keyword suggestions, and check keyword match type and device used.

Associated keywords: Discover related keywords

other advertisers are bidding on

and see if it's suitable for your business.
Trend #4 – Use Display Ads For More Than Just Brand Awareness
This PPC strategy is beneficial for advertisers to show clients how their Display Ads are benefiting their campaign performance. In other words, to show that the money you're investing in Display Ads is worth it.
How to do it?
Create a Traffic Source Audience by including "display" in your Display campaign names . You can also manually attach a specific source and medium with your Display URLs.

Ensure your Traffic Source audience is added to both Google Ads and Google Analytics so that the metrics appear in the Audiences report.
Google Analytics will show the number of users who don't convert from your Display campaigns but eventually return to your site via other channels and convert. Make use of the observation mode to get info on what your users search for after interacting with your Display Ads. Gain more brand exposure by leveraging the professional white label PPC management services.
Trend #5 -Run Lead Generation Ads To Scale First-party Data Collection
As third-party cookies are slowly declining, it is important to collect first-party data. While lead magnets can help collect email addresses and other information, you can scale your data by using lead form ads, especially on Facebook. There are two ways to do it.
Firstly, include custom questions in your

Facebook lead Ad

Instant form. Many fields can lower the completion rate, instead select fields that can auto-populate based on the information available in the user's profile.

Secondly, ask only for their email to

capture a large number of leads

. Make use of

email marketing

campaigns to both build trust and send them to your site. These trusting visitors are more likely to fill out forms with additional [first-party-data-collecting] fields.
To implement this PPC trend, ensure you set up a robust email and content marketing program to provide offers to your target audience and consider it worth it to give up their information for.
Trend #6 – Refine Your B2B Buyer Personas With Linkedin Website Demographics
With this PPC campaign strategy, you can capture your own first-party data for an effective B2B PPC. Here are a few ways you can use it.
Segregate the users who clicked on your

LinkedIn ads

based on job function.

Analyze performance according to company size and their budget and make price decisions.

Identify the best types of content to use in your

B2B marketing

strategies

by filtering by job seniority.

Identify placement options for niche sites your top buyers are visiting by using these insights on your audience.
Leverage white label PPC management services to maintain an effective B2B PPC.
Trend #7 – Use custom conversion events to cope with Facebook Event Measurement
Make creative Ads for your Facebook funnel and copy the same for all the industries. In this way, you can create one custom Conversion event for all the webinar signups, and make it one of your aggregated events. Here are ways to combine your events in a way that works for you:
Offer type (content vs consultations vs discounts)

Stage of the funnel (top vs mid vs

bottom

)

Seasonal actions (you can switch out your eight events if needed).
Trend #8 – Turn Click-to-messenger Ads Into Lead-generating Chatbots
With this PPC optimization tool, you could also avoid conversion events and pixels altogether by using Facebook campaign objectives that don't send users to your site. Not only does Chatbots save you from the conversion event complications, but you can turn it into a conversational lead Ad. This conversational approach to gathering data can sometimes engage users who tend to ignore a direct response Ad. This creative method might be more appealing to audiences who are text savvy.
Aso Read: Few Things You Should Know About Optimized Targeting in Google Ads