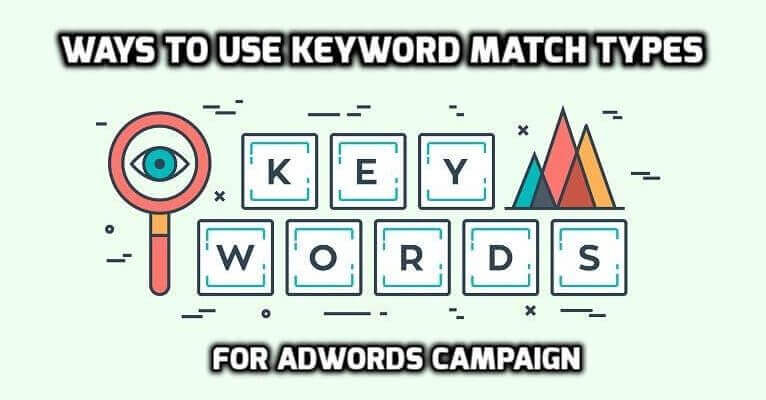 Best Ways to Use Keyword Match Types for Google Ads Campaign
Wondering how to use keyword match types for effective Google Ads management? A robust combination of Phrase and Exact Match types might have got results before, but not anymore. An expert Google Ads agency today uses advance options to ensure maximum ad visibility and ROI.
Here are a few suggestions to get you going:
#1 Implement Broad Match Modifier
Similar to the Broad match option and designated with a plus sign, the Broad Match Modifier or BMM option lets you target search queries that include at least one of your keywords, thereby increasing the relevancy of your ads and improving your ad's CTR and conversion rates.
Because BMM offers a combination of flexibility and control, a professional Google Ads agency may use this option at the beginning of a campaign to cover all bases.
#2 Maintain Simple Structure
Effective Google Ads management is all about working smart. Instead of having keywords scattered across different keyword variations, organize them neatly for greater focus and a simple account structure. Include main keywords and variations in Exact Match for better outcomes.
It's a good idea not to use phrase match to begin with. Use the BMM option for long tail keywords and first time keywords to ensure your ad will get shown on different variations.
Also read: Apply These Secret Techniques to Improve Google Shopping Ads
#3 Consider Additional Ad Groups
Whether it's a white label Google Ads agency or a regular one, the team of Google Ads professionals may recommend creating separate ad groups for each high volume Exact Match keyword. This will allow you greater control in bid management and ensure that well-performing Exact Match keywords are given priority over BMM keywords with a higher ad rank. This a simple way of creating an internal system of priority and flexible negative keywords.
#4 Dealing with One-Word Keywords
A one-worded keyword has the ability to generate huge volume of impressions for your Google Ads campaign. However, inexperienced Google Ads professionals often make the mistake of including one-worded keywords in both BMM and Phrase Match types which can lead to confusing results.
A better idea is to put one-worded keywords in Phrase Match type for greater control over which search queries the ads will show up for.
#5 Dealing with Low-Volume Keywords
When it comes to low-volume keywords in new campaigns, you might want to avoid using Phrase Match type. If you use Phrase Match, BMM and Exact Match at the beginning of a campaign, you'll only be scattering clicks and you'll have to wait a longer period of time to study conversion data that will allow you to optimize bid management.
Besides, using Phrase Match involves a lot of work and you're better off optimizing other aspects of your campaign.
Also read: 8 Google Remarketing Audiences You Should Focus for Holidays
#6 Keep Ad Rank in Mind
For effective bid management, you need to keep Ad Rank in mind. Apart from determining your ad's place on search results, Ad Rank is also used to determine which keywords in your campaign will trigger particular ads. Sometimes, a BMM keyword with a higher Quality Score and AdRank can receive priority over an Exact Match keyword and lead to lower ROI down the line.
To avoid this, a regular or white label Google Ads agency may suggest bidding higher for Exact Match type or creating separate ad groups.
#7 Don't Forget Negative Match
Don't discount the effectiveness of negative match that is designated by the – sign. By using the negative match, you can exclude your ads from showing up for search terms that are irrelevant for your business. This allows better focus and helps put your ad in front of an interested audience.
However, negative keywords should be chosen carefully after careful consideration of when they can be useful.
These are only suggestions and their implementation should rest on the unique objectives and other aspects of an Google Ads campaign. For more information, get in touch with us to hire PPC management experts!